nick and brownbar.org home page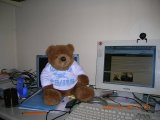 Hi, My name is Edward T Bear but most folks call me Mr Bear. I am a brown bear. I like fishing, honey and computers and I particularly like computers which hibernate. In fact I like pretty much anything which hibernates. I think that things which hibernate are good for the environment. I dislike Davy Crockett (killed him a bear when he was only three).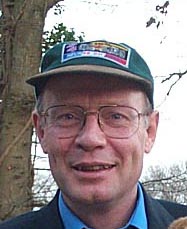 I was born in the woods on 2nd December 2000. My job is to look after Nick (see photo right). But these days he pretty much looks after himself which leaves me plenty of time to play on his computers. The picture at top left is of me at mission control.
Monday 13th October 2008 - It's time to update my icons. The words brown and bar say it all but some bears cannot read. We need something more intuitive - like maybe a picture of me. I think we could possibly use a competition to see who can produce the best logo. Here's a start.



Monday 22nd September 2008 - I was just thinking to myself that "People sit on chairs, but bears will sit anywhere, including on a stair" when it hit me that I could kill two birds with one stone (or two fish with one claw as we bears say). I have had a request for a bigger picture of me and I want to show everyone my shiny new bear-size laptop. Please click on the photo to the right to see them both.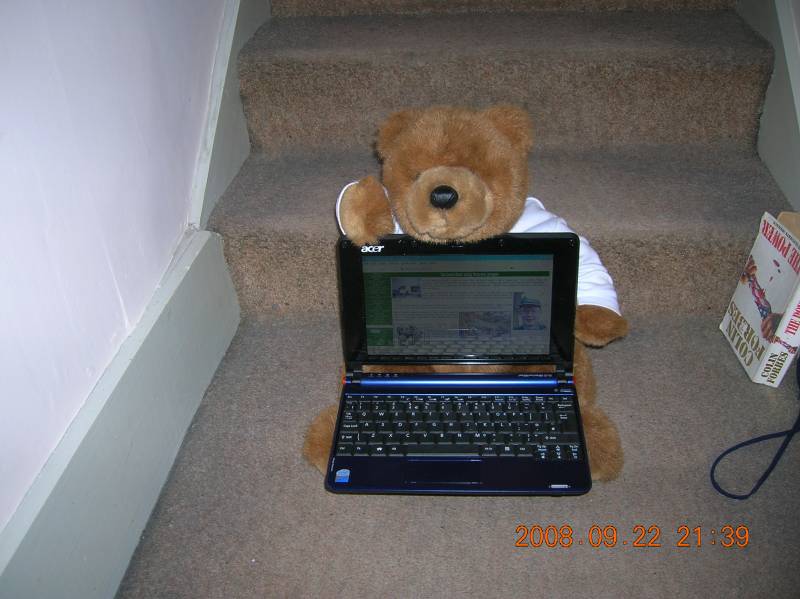 Nick likes motor racing. The pinnacle of the sport is, of course, F1 but if you want spellbinding magic you have to go to Le Mans for the 24 hours. The story of his 2005 trip with nephew, Sam, is here Le Mans 2005.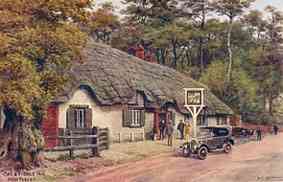 Nick's Mother collects postcards. You can see some of them on her website if you click on this postcard of a country pub. I particularly recommend stuff contributed by her teddy-bear, Bruno.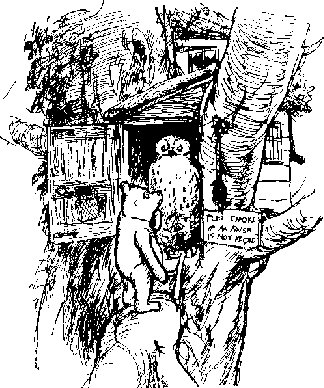 Nick's youngest sister, Caroline, has a website www.wolzowss.co.uk. It seems to me that it does very little. But she tells me that it does everything that is needed. It has a picture of Wolzowss and a blue letter box that you can click on if you want to send her an email. I have set up a very similar version here Wolzowss. It has more bears for your money and you can still see a picture of Wolzowss and click on a blue letter box.
His youngest brother, Toby, also has a website www.cullen.org
And his Father has a personal website www.quintincullen.org. At this stage it is entirely dedicated to postcard collecting. Here are some links which may be of particular interest. If you wish to search his database of information about A R Quinton Postcards try Database of A R Quinton Postcards. If you prefer to simply view some of the postcards then try A R Quinton Postcard Viewer. Jean Cullen's Postcard Collections are here Jean Cullen's Postcard Collections. And here are some of her quarterly newsletters about Salmon artists. Salmon artists.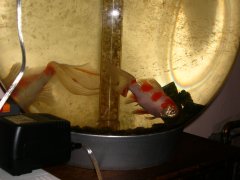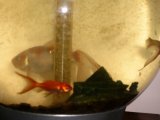 The best things in Nick's flat are his goldfish. Sometimes when I'm feeling a bit peckish I go and take a look at them but I know I can't eat them because they are friends of Nick.
Nick tells me that when he was young it cost four pennies to make a phone call from a public phone box. You had to press button A when someone answered (or button B to get your money back).
LINKS
Family websites:
Caroline Mother's Postcard Collections NickVN overtaQuatix Toby NickFS